The Ground Vehicle System (GVS) Other Transaction Agreement (OTA) W15QKN-14-9-1002 was awarded under the auspices of Section 845. During the performance of this OTA, changes to the OTA prototype requirements were implemented as a result of the FY2016 National Defense Authorization Act (NDAA), which eliminated Section 845 and created Section 815.
W15QKN-14-9-1002 was modified to change the authority from Section 845 to Section 815, which among other changes, revised the definition of a Nontraditional Defense Contractor. Another significant change to how the OTA operated was the ability to enter into follow-on production awards following successful performance of a prototype project, provided the OTA was competed. Because W15QKN-14-9-1002 was not considered as having been competed, follow-on production per the Section 815 guidance was not an available option under the FY14 awarded OTA.
Given this limitation and that the OTA was committing more than the estimated $100M per year ceiling, the Government determined there was a need to solicit for a new GVS OTA using competitive procedures. As a result of the competitive process, NAMC was awarded the new GVS OTA, W15QKN-17-9-1025. The new OTA allows for follow-on production in accordance with Section 815 and has a 5 year, $2B ceiling.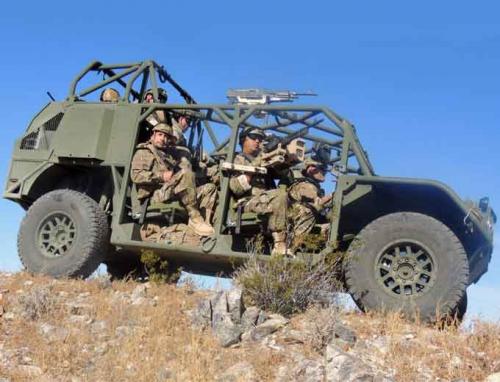 The OTA construct would be nothing without the government partners critical in shepherding DoD priorities through the process. While NAMC serves as the industry lead, we rely on our partners to ensure success. Uniquely, our OTA is with the Ground Vehicle Systems Center (GVSC), which is also aligned with the Next Generation Combat Vehicle (NGCV) Cross Functional Team (CFT), both of which are home to top Army technology priorities and is contracted through Army Contracting Command - Detroit Arsenal (ACC-DCA).
Ground Vehicle Systems Center
Acquisition Management Office (AMO)

 AMO Technology Manager(s)

 OTA Lead

Agreement Office Representative(s)
Army Contracting Command - Detroit Arsenal
 Agreements Officer(s)

Agreement Specialist(s)
Next Generation Combat Vehicle Cross Functional Team
Technology Objective Areas
The GVS OTA allows the Government to engage with NAMC Members to undertake projects which develop and integrate prototype systems and component technologies under the technology objective areas listed below.
Architecture, Security, and Modularity (ASM)
Efforts to advance open architecture compliance to existing standards; Vehicle Management Systems; vehicle networks; architecture modeling; physical, logical, and messaging interoperability (e.g. COE, JAUS and IOP); safety systems; cyber-security; and modularity of
systems and subsystems.
Autonomy (AUT)
Efforts to advance autonomy and autonomous perception, intelligent behaviors, and Human Machine Interaction (HMI) and Operator Controlled Units (OCU).
Collaboration (COL)
Efforts to advance autonomy and/or coordination algorithms, including as applied to other platform types (aerial, surface, underwater) as they relate to GVS collaboration and ground, air (to include Tactical Unmanned Aircraft Systems), and maritime vehicle teaming.
External Systems (EXT)
Efforts to advance communications, payloads, and attachments such as robotic manipulators and end effectors, explosive detection sensors, mechanical countermine systems, perception sensors, and other mission specific sensors.
Fuels & Lubes (F&L)
Efforts to advance technologies in fuels and lubes for operational efficiency, increase power densities, alternatives, viscosity, and longevity.
Mobility (MOB)
Efforts to advance the chassis, wheels, track, braking systems, suspensions, and other mobility systems.
Modeling & Simulation (M&S)
Efforts to advance the state of the art in systems, subsystems, and force effectiveness as well as reducing physical testing and life cycle costs. Examples include mission, campaign, war-gaming, physical, testing, and evaluation models and simulations.
Petroleum and Water Systems (PAWS)
Efforts to advance research in fuel and water technology necessary for robust systems integration and operational efficiency. Examples include research pertaining to ground fuels and lubricants, as well as ground water supply and wastewater treatment.
Platforms (PLA)
Efforts to advance interior compartments, exterior body, survivability, occupant protection, fire suppression, material solutions, and thermal systems.
Powertrain (PWR)
Efforts to advance engine, drive train, energy storage, and electrical power generation and distribution.
Survivability (SUR)
Efforts to advance the survivability of ground vehicle systems or the GVS Mission. The main focus areas would include blast protection/mitigation using structural design or armor, fire suppression, laser protection, mechanical countermine, lightweight structures, and armor.
Testing & Evaluation (T&E)
Efforts to advance research in the area for testing, evaluation, and validation of manned and unmanned ground vehicle systems for both general and specific mission tasks. This includes, but is not limited to, testing theory, deterministic and non-deterministic testing, creation of procedures and apparatuses, evaluation of systems and sensors, testing of missions or functionality, and simulation.